BY FAR DAYDREAM OF PASSING CLOUDS SET
EAU DE PARFUM · 100ML / 3.4 fl oz
Lay beneath an open sky, cloud gazing with a slow exhale. Watching as shapes float across the blue. A parade of white musk and patchouli essence, drifting at their own pace. As effortless as whisps of pastel rose and pink pepper, up here one movement changes the course of everything.
Why is it so special

Sustainable

Customizable

Refillable
What's in my set
BY FAR DAYDREAM NUDE CHARM BOTTLE
20ml
BY FAR DAYDREAM SILVER LEATHER BRACELET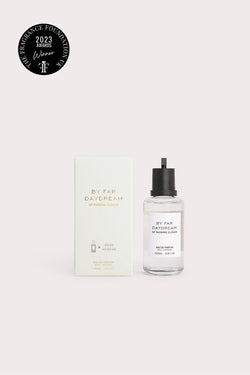 BY FAR DAYDREAM OF PASSING CLOUDS REFILL BOTTLE
Eau de Parfum · 100ml
Ingredients
• ALCOHOL DENAT. • PARFUM (FRAGRANCE) • AQUA (WATER), LINALOOL • ALPHA-ISOMETHYL IONONE • CITRONELLOL • LIMONENE • COUMARIN • CITRAL • EUGENOL • GERANIOL

Scent Notes
• TOP: Violet
• HEART: White Musk
• BASE: Patchouli Essence
Details
• Daydream of Passing Clouds
• 100ml EDP Refill
• Nude Refillable Charm
• Silver chain & Leather strap bracelet

• Infused with rose essential oil. A delicate floral known for its uplifting mood-boosting properties.

• Musk
• Medium intensity
• Genderless
• Upcycled beetroot vegetable alcohol
• Fragrance oil handmade in Grasse, France
• Perfumer Jean-Christophe Hérault
How It Works
Insert the 20ml mini bottle into the base of your charm
Swivel the 100ml bottle into the neck of the charm bottle
Allow to fill until it comes to an automatic stop and twist to release
Clip on the Zamac BY FAR bracelet over the bottle and screw on the pump
Snap on the cap and snap on the charm bracelet
Style on your BY FAR bag, jean hoop or hang in the car
To refill, insert the key diagonally down into the pinhole on the charm bracelet hoop
Repeat as above
Sustainability
We continually strive towards our dream for a better future, which is why our scents are consciously crafted with sustainability in mind. Reusable by design, the painted aluminium charm case contains a partially recycled glass bottle, with 15% deriving from bottle banks. Our 100ml refill bottle has been minimally designed. We have purposefully not lacquered the glass or put plastic protectors on the labels to allow this vessel and the pp plastic cap to be fully recyclable. Our products are packaged in FSC (forest stewardship certified) boxes and can also be easily recycled at home.
Shipping & Returns