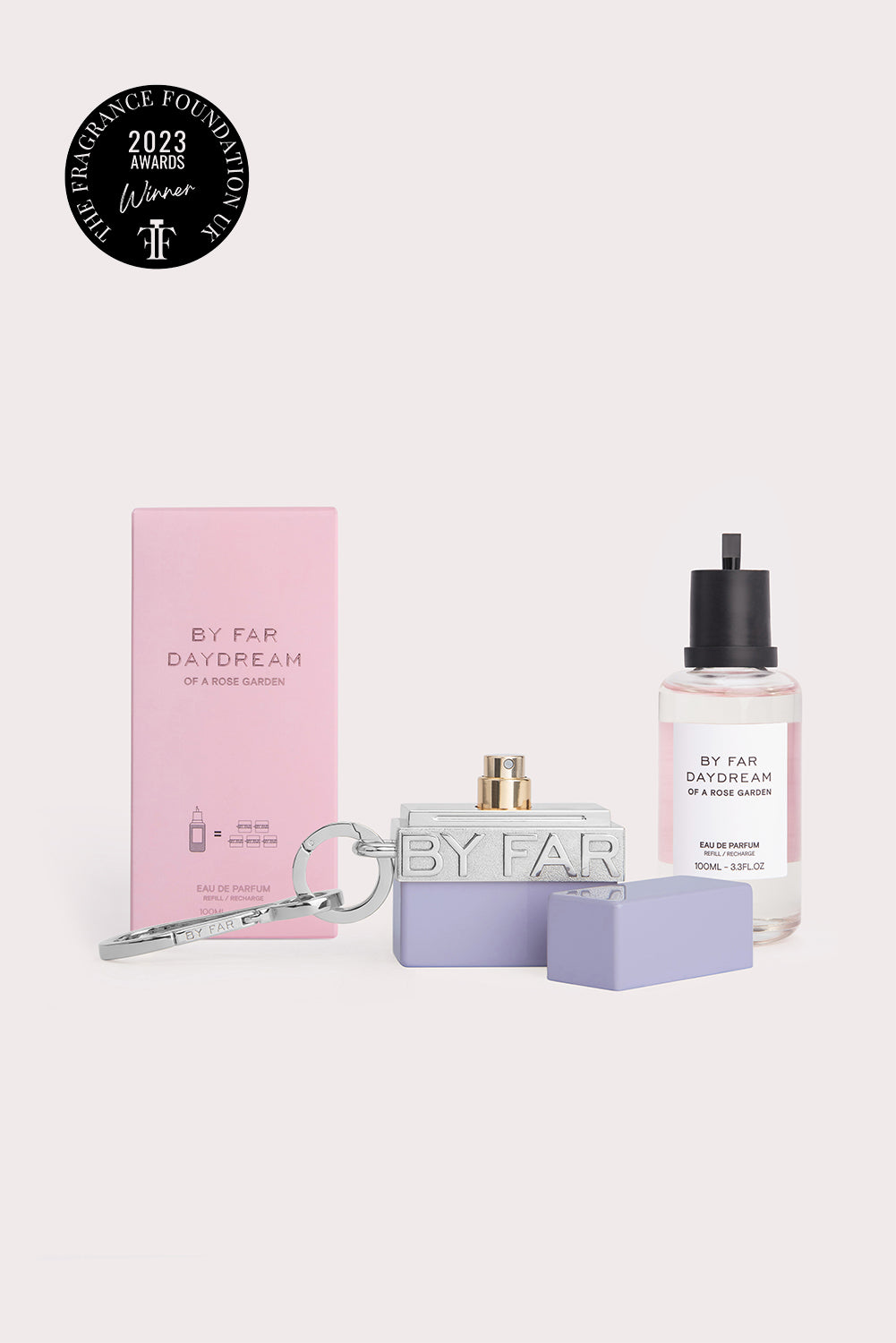 BY FAR DAYDREAM OF A ROSE GARDEN SET
Life in bloom. Tumble through the garden of your daydream. A kaleidoscope of transparent roses unfurls in all their vibrant youth. Dancing, they reveal brush strokes of aqueous pink watercolours. Bathed, in sunshine the essences of rosemary, basil and mint entwine with wild abandon. Liberated and beautiful, a call to a new generation where we dare to be free and untamed.
How It Works
Insert the 20ml mini bottle into the base of your charm
Swivel the 100ml bottle into the neck of the charm bottle
Allow to fill until it comes to an automatic stop and twist to release
Clip on the Zamac BY FAR bracelet over the bottle and screw on the pump
Snap on the cap and snap on the charm bracelet
Style on your BY FAR bag, jean hoop or hang in the car
To refill, insert the key diagonally down into the pinhole on the charm bracelet hoop
Repeat as above
Sustainability
We continually strive towards our dream for a better future, which is why our scents are consciously crafted with sustainability in mind. Reusable by design, the painted aluminium charm case contains a partially recycled glass bottle, with 15% deriving from bottle banks. Our 100ml refill bottle has been minimally designed. We have purposefully not lacquered the glass or put plastic protectors on the labels to allow this vessel and the pp plastic cap to be fully recyclable. Our products are packaged in FSC (forest stewardship certified) boxes and can also be easily recycled at home.
Shipping & Returns
Formula
THE DAYDREAMS ARE HAND BLENDED IN THE FRENCH TOWN OF GRASSE, A UNESCO WORLD HERITAGE SITE FAMED AS THE CRADLE OF PERFUMERY. OUR FRAGRANCE OILS ARE EACH INFUSED WITH A RECYCLED-ROSE ESSENTIAL OIL BEFORE BEING MIXED AND DISTILLED IN A VEGETAL ALCOHOL CREATED USING UPCYCLED BEETROOT. FREE FROM SYNTHETIC COLOURS AND UV FILTERS, OUR FRAGRANCES ARE TESTED FOR STABILITY, FULLY COMPLIANT WITH EU IFRA GUIDELINES AND ARE ONLY EVER TESTED ON HUMAN SKIN (ANIMALS DON'T WEAR PERFUME).